Luminar Technologies: Investing in LiDAR
Autopilots and robotics are no longer a fantasy, they're our nearest future and almost part of our daily lives. While in an open space, a Global Positioning System (GPS) is enough to make your way, one of the challenges of any autopiloting system and robot is avoiding obstacles on the way from point A to point B.
RADAR and LiDAR systems are necessary for the detection of obstacles. So today we'll be talking about a company that works on the LiDAR system, describing the technology itself, and comparing it to RADAR.
What is RADAR?
Radio Detection and Ranging (RADAR) is a detection system that is used to determine the distance, angle, or velocity of objects. It uses the radar method based on radio waves – locating objects by bouncing radio waves off of them.
Advantages:
Can detect objects over long distances
Works at any time of the day
Functions well in bad weather
Drawbacks:
Is not accurate with object sizes over long distances
Unable to identify complicated shapes due to low resolution
Poorly identifies radio-reflective objects such as humans
What is LiDAR?
Light Detection and Ranging (LiDAR) is a technology of measuring distance by light emission and checking the time that it takes the reflected light to return.

The system creates a two-dimensional or three-dimensional picture of an environment.
Advantages:
Collects data in high speed
Efficient and effective at any time of the day
Provides highly detailed information about objects that are far away
Has a wide range of action
Drawbacks:
Unstable function in bad weather conditions
Unable to detect the density of objects
History of LiDAR
Unlike RADAR, LiDAR came into use in transport in 1987, which is not so long ago. When the EUREKA Prometheus project started in 1987, the EU spent over 1 billion USD on it. It required huge processing power, which was very costly in those days.
30 years later, the situation has changed. Nowadays, LiDAR is available to anyone – it's even used in smartphones for unlocking the screen with your face. This means that mobile devices already have enough processing power to run the system.
Previously, LiDAR had to be installed on the car roof to test autopilots.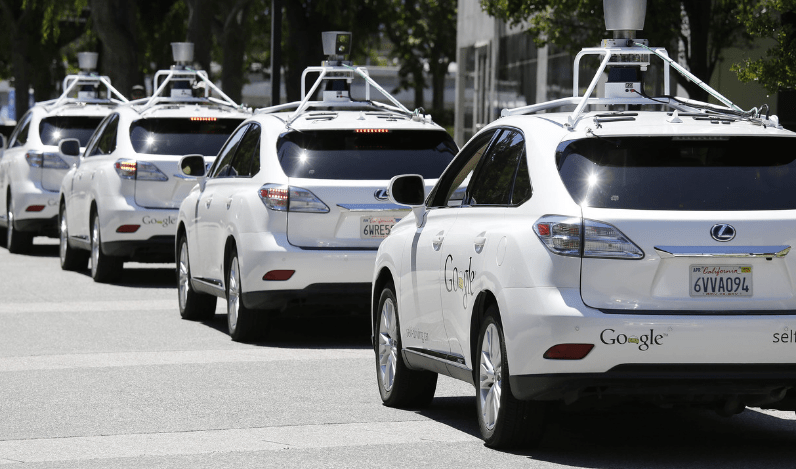 Over the last decade, the technology has improved, with the device becoming small enough to be accommodated inside the car.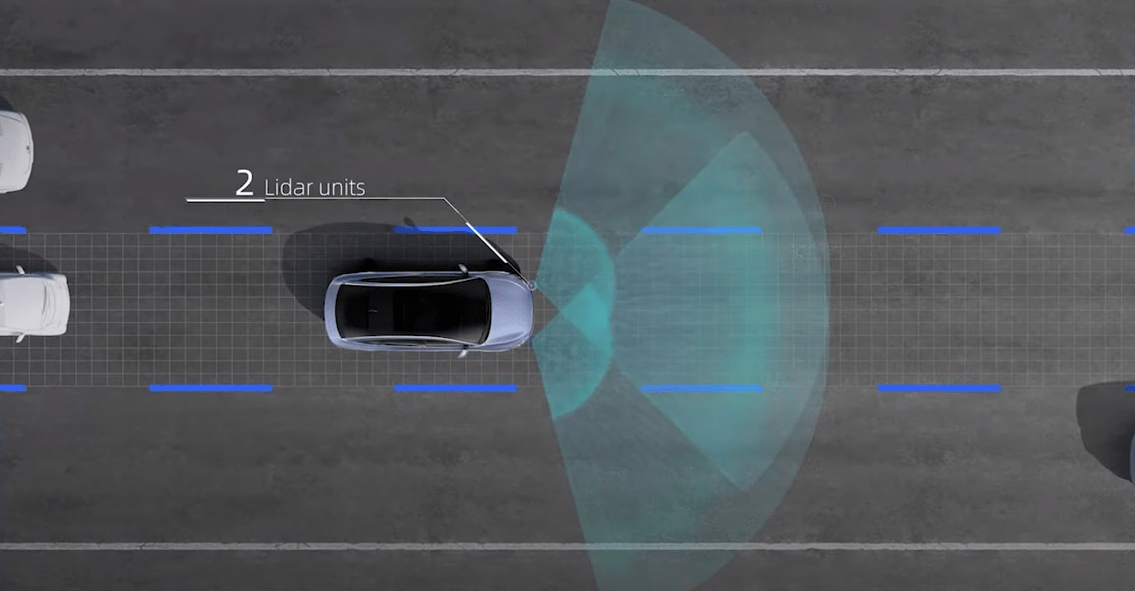 As well as the size, the cost of the device has also changed. While LiDAR equipment cost at least 8,000 USD in 2017, the current price starts from just 500 USD.
Autopilot perspectives
Elon Musk has mentioned on multiple occasions that autopilots would soon be replacing manual control in developed countries. Car manufacturers are eagerly developing the autonomous driving system, following Tesla.
However, the car industry is not the only one to be using this technology – there is room for it in robotics, design, the metaverse, construction, defence, etc. This means the demand for LiDAR will be growing. And where there is demand, there will be supply.
Here you are with an investment idea: invest in companies that work on LiDAR. Currently, these are small enterprises with low stock prices. This investment is rather risky because no one can predict which company will survive the growing rivalry. However, if we take a look at this sector, the first company that comes to mind is Luminar Technologies, Inc. which already works with large corporations.

Overview of Luminar Technologies
Luminar Technologies Inc (NASDAQ: LAZR) is an American tech company that develops vision-based lidar and machine perception technologies, mostly for autopiloted cars. It was founded in 2012 by Thiel Fellow Austin Russel when he was just 17 years old.
For the first five years of its existence, the company worked secretly, designing LiDAR technology with improved resolution and range. Many components were manufactured in-house, which made the company less dependent on other enterprises. LiDARs by Luminar Technologies work in the infrared range, making them safe for human eyesight even when functioning at full power.
In 2017, Luminar Technologies emerged from stealth mode and received 36 million USD in series A funding, which was spent on building a factory to manufacture 10,000 automotive LiDAR devices. Thereafter, Volvo Group (SSE: VOLV) invested in the company. Next, Daimer Truck AG acquired minority shareholding. The latter plans to launch the production of autopiloted trucks.
On 24 August 2020, Luminar Technologies went public via a reverse merger with SPAC Gores Metropoulos, thereby attracting about 600 million USD. Currently, Luminar has 543 million USD on its account, paying off a debt of only 69 million USD.
Business partners of Luminar Technologies
The company works with more than 50 companies, 12 of which are large car manufacturers. There are also partners in aviation, such as UpNext, a subsidiary of Airbus Group SE (Euronext: AIR).
Another valuable partner is Intel Corporation (NASDAQ: INTC) which makes orders from Luminar Technologies for 1.3 billion USD. The company plans to create a fourth-generation autopilot.
IPO of Luminar Technologies
Following the reverse merger with Gores Metropoulos, Luminar Technologies (NASDAQ: LAZR) stock sky-rocketed over 350%. This massive growth is not attributed to the LiDAR technology itself: the two main growth factors are the craze in the stock market and the QE policy implemented by the US Fed.
By now, the shares have returned to the levels from which they initially had started to grow, and trade volumes have increased.
With the more aggressive tightening of the credit and monetary policies, and with stimulus programmes to help the economy coming to an end, investors will become more cautious. Increased sales of Luminar Technologies shares demonstrate the interest that market players have in the company.
Currently, a breakaway of the level of 15 USD will indicate the beginning of an uptrend and might become a starting point for further growth.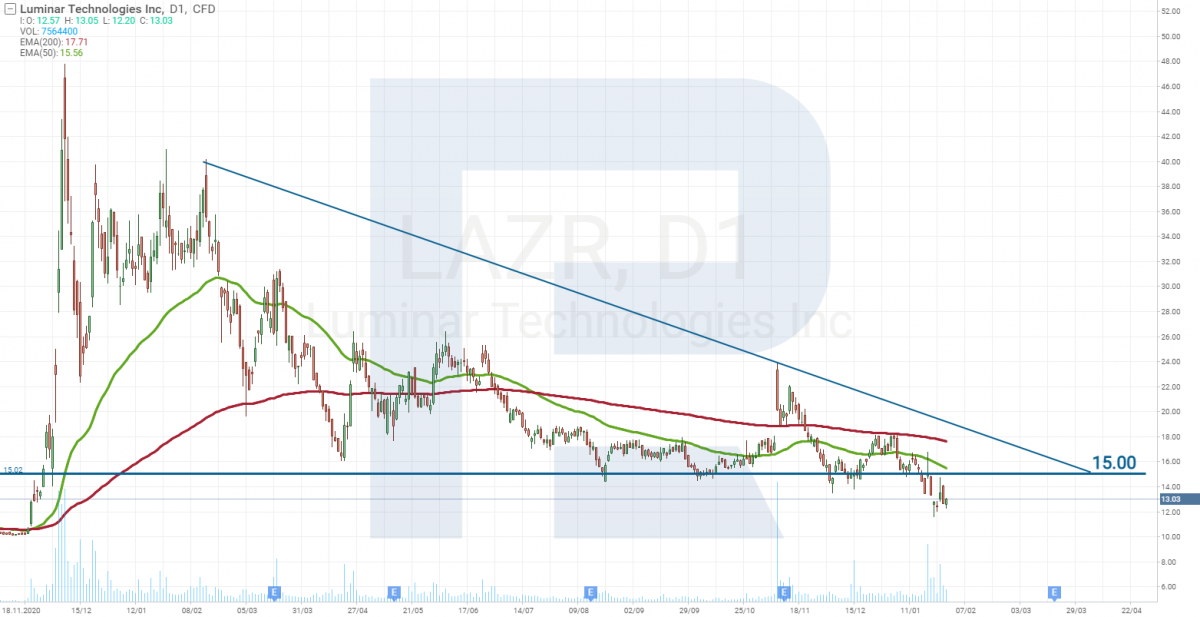 Conclusion
Luminar Technologies designs an improved LiDAR system and is already working with large companies. Consequently, it is gathering a pool of useful data that helps bring the technology to perfection. The more the product is improved, the more clients for the company. This, in turn, will have a good impact on its revenue and share price.
* - Past performance does not predict future returns.